Five Tips for Leading Remote Teams
Currently just under 50% of the adult population is working from home with Covid-19 necessitating what has been referred to as the 'world's biggest remote working experiment'.  Prior to the pandemic, approximately 5% of the workforce worked remotely which means that many of us are having to manage and support a new remote workforce when most of us have no previous experience of managing remotely.  Given that recent research from the Institute of Directors suggests that almost three quarters of firms will be keeping increased homeworking in the long term, managers will need to develop their skills to effectively motivate and support their remote teams. 
Here are our five top tips for leading remote teams
1. Understand the challenges that your team members are facing
Effective leadership requires trust and mutual respect, so whether working in an office environment or managing remote workers, managers need to take time to get to know their team members and understand the challenges that they are facing, their strengths and weaknesses, and what is important to them.  
Team members that may have thrived and excelled in an office role may now be struggling with a lack of motivation, missing personal interactions or finding it difficult to switch off at the end of the day. What is their home environment like?  Do they have a comfortable place where they can work without distraction or are they sharing space on the dining table with their partner or flat mates?  Are they juggling childcare commitments, or do they have responsibility for a clinically vulnerable family member?   
Having regular one-to-one conversations with your team can help you to build a rapport with them and allow you to ask questions to find out what is working well for them and where they may need extra support.  
2. Communicate more than you think you need to
We know that communication is a key skill for leaders and for remote or distributed teams who can feel disconnected or isolated, regular communication is even more important. So, avoid the tendency to put your head down and focus on the day-to-day operational challenges as your team need to hear from you more than ever so make yourself available. 
Making time for a daily check-in can help provide an opportunity for people to raise issues and for their concerns to be heard.  Whilst 'Zoom fatigue' may be a real thing, having face-to-face conversations via video conferencing can help to bring teams together virtually.  Just make sure that you don't over-schedule video calls so that people can take a break from their screen and give their eyes a rest.   
John Oliver OBE, one of our guest speakers on our leadership programmes asks our delegates to consider whether each form of communication will 'Inspire, Motivate or Inform'.  So, think about what your team wants to know, who needs to tell them and the best way to share that information. Email may be a valuable tool, but people can feel inundated by a constant stream of messages throughout the day.  If a 5-minute phone call would be a better way to share the information with an individual, then pick up the phone.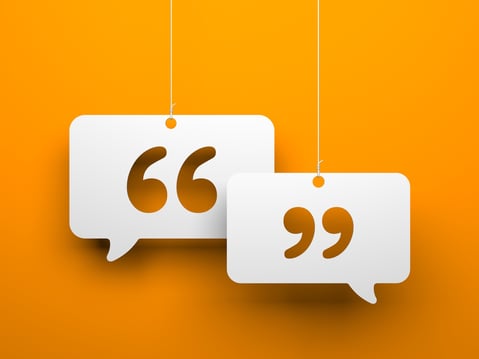 3. Set clear expectations and let them know how they're doing
Clear expectations from the outset are so important – how can people deliver if they do not know what is expected of them?  Job roles may have changed drastically over the last few months so make sure that all team members know their (new) roles and responsibilities.  Previously competent and confident team members may be taking on new and unfamiliar tasks, so consider how much direction and/or support they will need to achieve their objectives.   
Establish 'rules of engagement' so that people know how they can get in touch with you and other team members, how and when they should share information and what you need and expect from them. 
To help employees know how they are progressing, what they are doing well and where they could improve, share specific and regular feedback.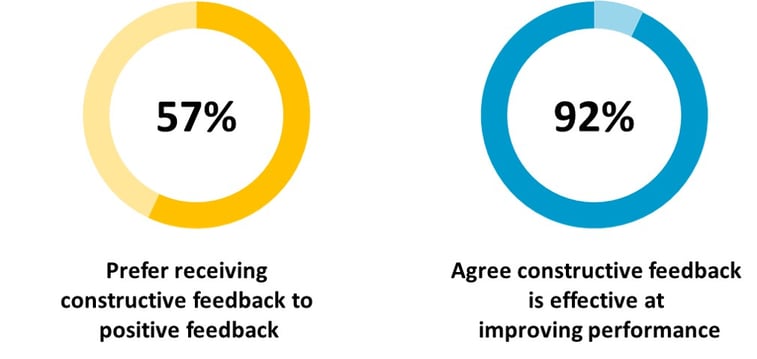 Source: Harvard Business Review, 2014 
4. Help them to feel connected 
Studies show that when people believe that their work matters, they are four times more likely to be engaged, are more motivated, and feel more connected to their organisation. So, when you are setting or delegating tasks/goals, don't just explain the 'what' and the 'how', share the 'why' and help them to understand how their objectives link to the overall company goals and purpose. 
Newly remote teams may also be missing those 'water cooler' conversations that they could have in an office environment with colleagues and friends. Whilst you can't force genuine social interactions and many of us may dread a Zoom quiz after spending all day on video calls, we can create a space for our teams to catch up informally.  Try using the first 10-15mins of the weekly team meeting for people to simply chat about what's happening before focusing on the work agenda.  Or invite team members to suggest ways in which they would like to socialize virtually. Demonstrate the value that you place on a positive remote team culture and find creative ways for people to communicate.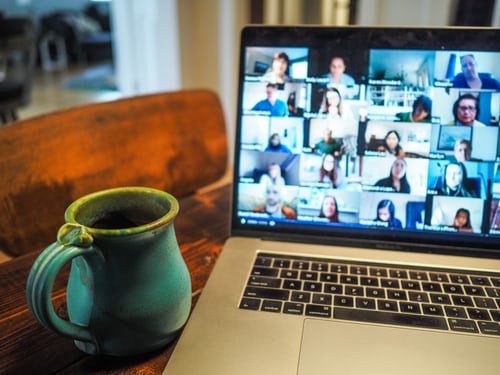 5. Trust them!
Managers who are used to being able to see what their team are doing day-to-day may be struggling with leading remotely. A recent study appears to support this suggestion with 38% of managers agreeing that 'remote workers usually perform worse than those who work in an office'.  This attitude can then lead to 'micro-management' with the same study finding that 34% employees reported that their manager expressed a lack of confidence in their work skills and more reported feeling that they needed to be constantly available.  
We would do well to listen to Ernest Hemingway's advice which was that "the best way to find out if you can trust somebody is to trust them." Harvard Business Review suggests that rather than 'checking up' on your team members, you should 'check in with them' to find out what they need from you to help them to achieve their objectives. Acknowledge that productivity does not have to mean working 9-5 and measure outcomes rather than how long someone has been sitting at their desk at home. Set clear objectives, identify how much direction/support is needed and then give them autonomy over how and when they work, providing help and guidance when needed.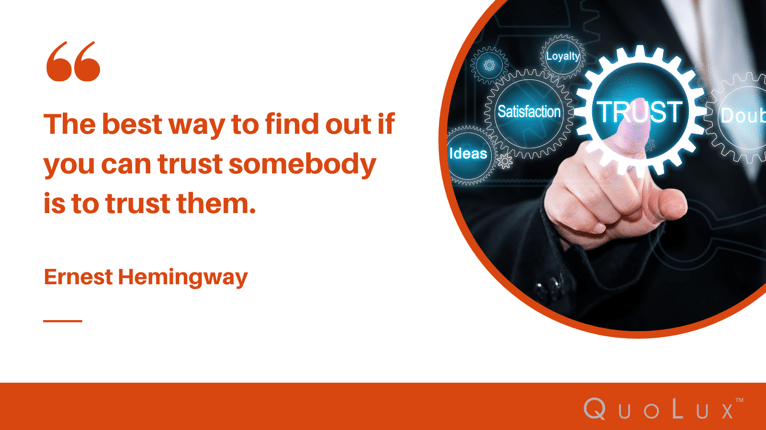 If you are interested in finding out more about how we help our delegates to improve their leadership skills in order to develop themselves, their teams and their organisations, get in touch with Jo Draper or Stewart Barnes here.   
We will shortly be starting two LEAD™ programmes for senior leaders, one in-person and one online, and a LEADlight programme for middle and junior managers, so get in touch now to book your place.   
The QuoLux™ Blog brings leading insights to business leaders and managers, with models, tools and techniques that stimulate thinking and provide practical, actionable and valuable approaches. Topics include leadership, management, strategy, leading change, leading teams, employee engagement, good dividends and many more. Get articles like these and more when you subscribe.